Boats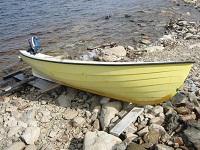 We hire out rowing boats for 4-5 people at Nedre- and Övre Särvsjön. To secure access to a boat, book simultaneously with the cottage! Fishing license purchased in Särvsjö allows fishing in both lakes. By agreement, we provide a fishing license at your arrival.
Rents:
Per boat per day 90 Sek,
Per boat per week 450 Sek.

Per fishing equipment per week 80 kr.
(Spinning rod with accessories).